We support the Oval to Stockwell Low Traffic Neighbourhood (LTN), announced by Lambeth Council in 2019, launched under emergency Covid-19 legislation in June 2020 and made permanent in December 2021.
The Council's decision to make the scheme permanent followed a formal consultation to gather views on its future, held in September and October of the same year. Save Oval Streets campaigned energetically to encourage everyone who lives in, works in or regularly travels through our area to take part in the survey.
We were not surprised to see strong support for the LTN in the survey data. It is worth noting too that the survey's results revealed that the stronger someone's connection to the area, the more positive they were likely to be about the scheme.
We have done everything we can to help Lambeth and our residents make it a success. Here are some reactions to the LTN dating from the autumn of 2020:
Background and History
It is important to note that our LTN, while the first in Lambeth, is now one of several across the borough and will be only one of dozens in London as a whole. Parts of our Triangle have benefitted from traffic filtering and mini-LTNs for many years already, without any controversy.
The need for LTNs has been growing for many years as more and more drivers have sought to save time by diverting to minor roads. There were 38 million registered vehices on UK roads in 1991, 27 million in 2007 and 38 million in 2020. 22.6 billion vehicle miles of traffic travelled across London in 2019, around 4 billion miles more than in 2009. But almost all this additional mileage had been along minor and residential roads – the yellow line in this chart.
There has been a consequential rise in pedestrian and cyclist casualties in residential areas: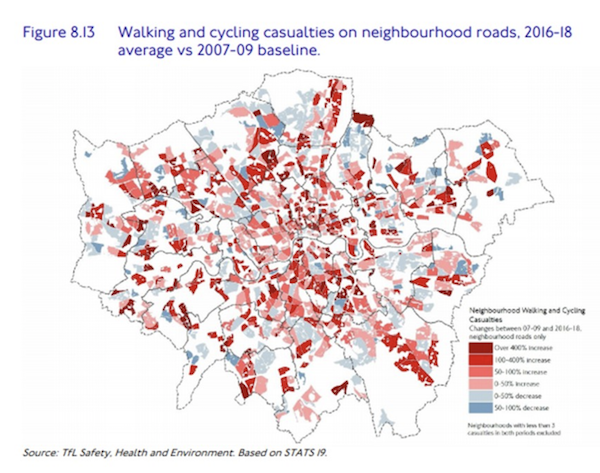 Responding to these unwelcome developments, several LTNs were introduced, over the years, in and around the southern approaches to Vauxhall Bridge. The following map shows how the Oval Triangle (broadly in the centre of the map) has become surrounded by other areas where through traffic had been discouraged or prohibited. Each closure forced traffic to remain on main roads (in yellow on the map) which therefore became increasingly congested as traffic volumes grew. The roads in the Oval Triangle accordingly became the only remaining alternatives available to drivers rushing to avoid the busy main roads leading to and from Vauxhall Cross and Vauxhall Bridge. And satnavs, of course, directed users through these streets.
In response, Lambeth Council used the new (2020) 'Low Traffic Neighbourhood' legislation to close entry and exit at the five points marked in black on the map. (The closure of only one or two of the roads would have merely diverted traffic down the other ones.)
For more information about the traffic restrictions A-E on the southern approaches to Vauxhall Bridge, please the note at the bottom of this web page.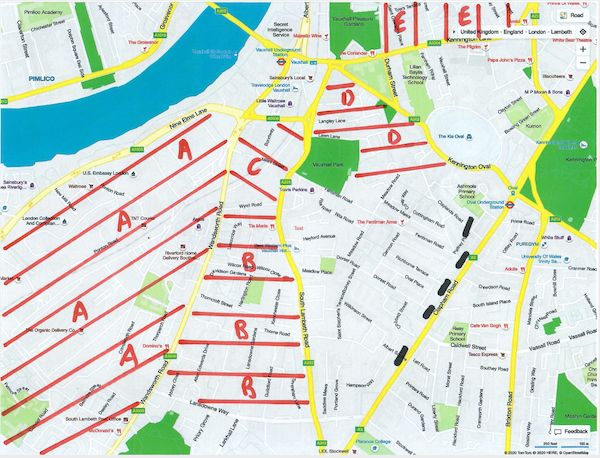 Government Policies
The creation of LTNs to better manage traffic is official (central, Conservative) government policy. Indeed, the Oval LTN was only launched when it was, in the summer of 2020, as a result of statutory guidance from the Department of Transport.
This is hardly surprising as LTNs, while not a panacea for all our cities' traffic problems, provide, at the very local level, effective solutions to such serious challenges as:
The coronavirus pandemic and its impact on transport nationwide
The long term climate emergency
Air pollution
The damage our inactive lifestyles are inflicting on public health
We believe that everyone will benefit from our LTN and there is already significant evidence that many are doing so already, including:
Pedestrians
Cyclists
The Emergency Services
Parents and children
The elderly and disabled people
Shop owners
The environment, and even
Motorists.
This is an opportunity for us all to reimagine our cities and their public spaces. It may not come again.
And we have to act now because public transport is likely to be running a reduced service for months, if not years.
LTNs and the Oval Triangle
The alternative would not be a return to the status quo before Covid-19, which was bad enough. It would be something far, far worse (especially given the planned work on the Vauxhall Gyratory).
An LTN is right for the Oval Triangle because:
Oval ward has very low levels of car ownership per household (58% had no cars in 2001, 68% in 2011)
It suffered from very high traffic volumes and the vast majority of through traffic was from outside the borough, ie rat runners
Speeding was out of control despite bumps, build outs and spot checks
The triangle is crossed by Cycleway 5, which had become dangerous thanks to the traffic.
And ours is a very diverse area, home to five estates, two schools, a nursery, a convent and sheltered accommodation for the elderly.
Ultimately, the real reason all streets suffer congestion is simple: too many drivers in too many cars making too many journeys which could have been made via other modes of transport.
Black or white, rich or poor, disabled or able-bodied, everyone suffers from the current traffic volumes. This state of affairs is what LTNs can help to address.
We reject thinking that divides different communities into 'winners' and 'losers' of the scheme or reduces the problem to one of 'shifting' or 'decanting' traffic from one area or one type of road to another.
And we also share the concerns of our neighbours who live on TfL-controlled roads about traffic volumes and pollution.
Overall, what a LTN does is, at a very local level, encourage more walking, more cycling, improve public health, including mental health, and help us rediscover our surroundings and reopen our public spaces to all.
We firmly believe that the LTN has transformed our area for the better - and the data from Stage 1 of Lambeth's monitoring of the scheme and from Stage 2 as well only confirmed this. It is clear too that the LTN enjoys strong support from residents, our neighbours and those who travel through or around the area.
Traffic Restrictions South of Vauxhall Bridge
These notes refer to the areas A-E highlighted in the above map.
Area A:- As a result of road closures next to Nine Elms Lane, here are no through routes between Nine Elms Lane and Wandsworth Road.
Area B:- Lansdowne Gardens became the centre of an informal LTN some years ago when traffic was prohibited from entering the area from Lansdowne Way in the south, and leaving via Hartington Road in the north. This forced traffic to remain on the South Lambeth and Wandsworth Roads.
Area C:- The closure of Miles Street stops traffic diverting to/from Wandsworth Road and South Lambeth Road.
Area D:- The closure of Meadow Road and 'no entry' to Vauxhall Grove stops traffic diverting south from Kennington Oval.
Area E – is the Congestion Charge Zone.